Whether or not you share your data is entirely up to you, the person with diabetes. You are in complete control. We do not do anything with your data without your explicit permission — this includes giving your clinician or other care team members access to your data. Once you have given permission for others to view your data, you can also choose whether or not they also have the ability to upload your devices via Tidepool Uploader.
Some example sharing use-cases include:
Sharing your data with a physician or physician's office to view and upload data from a clinic.
Sharing your data from a child's account with parents or other caregivers to view and upload data.
Sharing your data with friends to view, so you can share your experiences.
Sharing your data with a clinical study principal investigator, so they can use your data in their research.
Sharing your data with the Tidepool Support Team (support@tidepool.org) to help troubleshoot potential problems.
Sharing your data (inviting another user)
1. Log in to Tidepool Web
First, using Google Chrome, log in to your Tidepool account at https://app.tidepool.org.
At the top of Tidepool Web, you will see your account name with three options below it. One of the options is "Share". Click this option to move to the Share permissions page.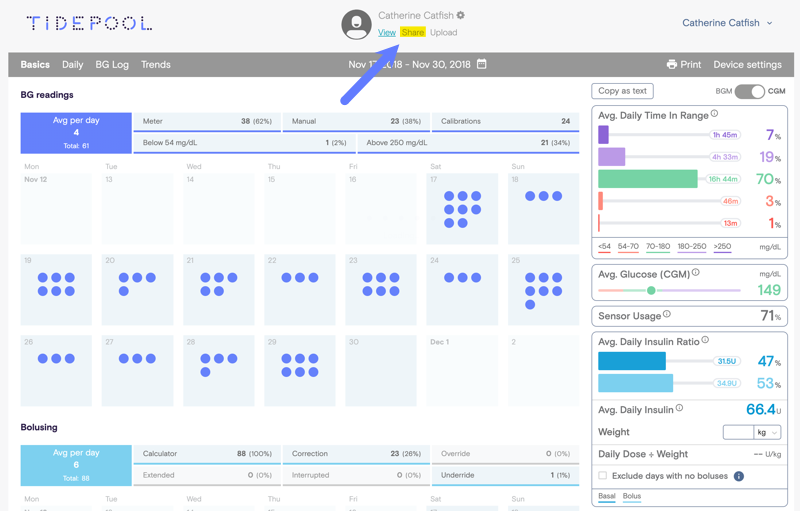 2. View sharing permissions
The next page you see will show everyone that you have granted access to view your data.
If you have not yet invited anyone, this screen should only show the empty person icon and "Invite new member" prompt.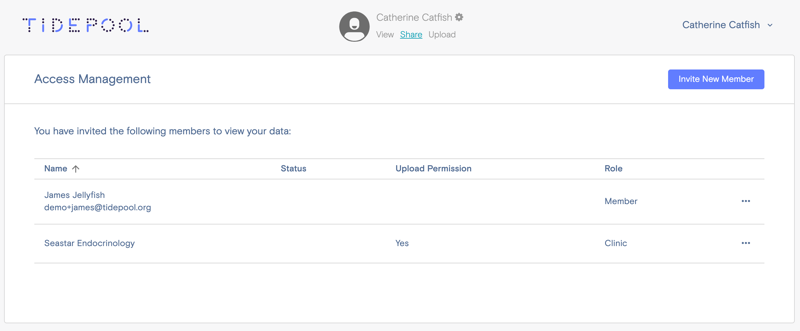 3. Sharing your Tidepool Web Account
There are two methods for sharing: email and share code. If you are sharing via email follow the instructions directly below, or if you have a share code click this link to jump down to 3b, or scroll down to 3b. Share via share code
3a. Share via email
Click Invite new member and you will be asked to enter an email to invite them to see your data. Enter the email address of the Tidepool account you wish to share your data with.
You also have the option to decide whether this invited user can upload data on your behalf to your account as well.
Click Invite Member to send the invite.


3b. Share via share code
Tidepool has a new system for some clinics that now use Share codes. If you were given a share code, please follow these instructions.
Click Invite new member from the Share page.
Click on the Want to share data with a new clinic? Invite via share code line.

Paste in or type in the 12-digit code that was given to you by your clinic in the field.

Click Submit Code.
Confirm the name of the clinic on the next screen and click Send Invite.

You can also decide on this screen if you want to allow the clinic to upload on your behalf by checking or unchecking Allow upload of data.
4. After Inviting
Once you click "Invite Member", an email will be sent to the addressee inviting them to create a Tidepool account or, if they already have an account affiliated with that email, it will invite them to accept your invitation to view your data. It will read, "INVITE SENT" until it has been accepted.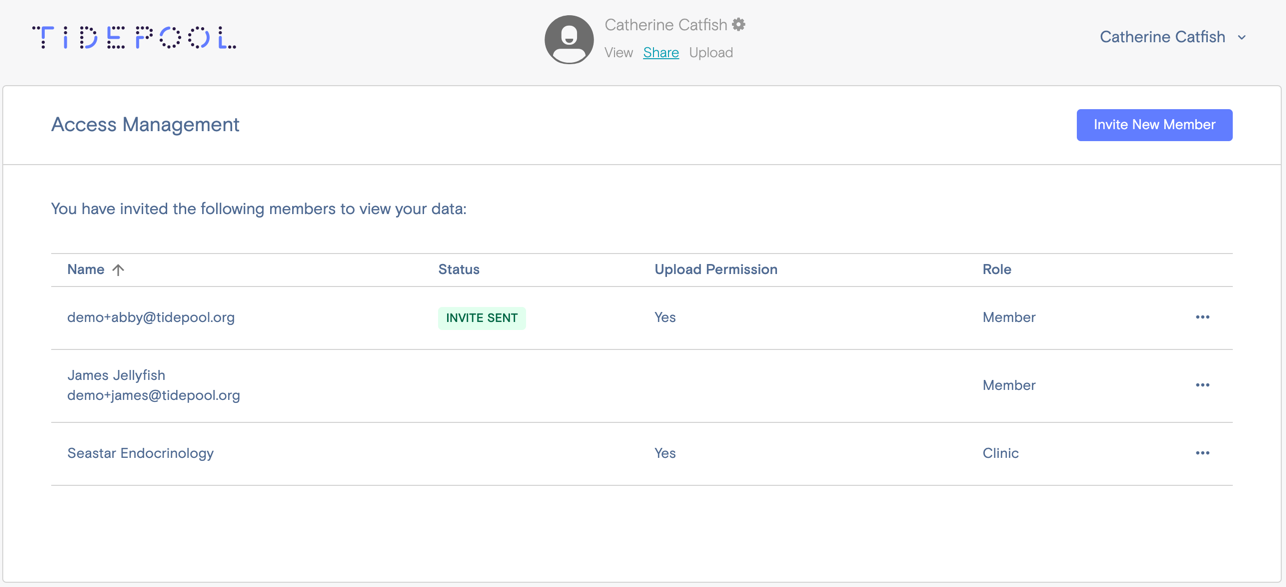 Accepting invitations
1. Follow email prompt
The email address you entered will automatically receive an email informing them of the new share request.


2. Accept invitation
Once the recipient of your invite logs into their account, they will see this banner. If they do not have an account already, they will be able to create an account by accepting your invitation


3. View data
After they click "Join the team!" they can find your account by either clicking the on their name in the top right of Tidepool Web and then selecting Private Workspace and either selecting you from the list that appears or, if they are a clinician, searching for you by name.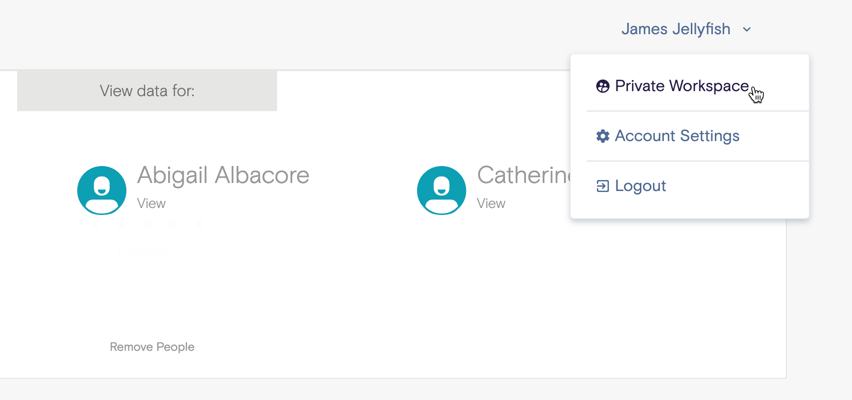 Personal Account





Clinician Account



Removing care team members:
1. Remove member
You can remove anyone you have invited to see your data by clicking the three dots to the right (1) of the member or clinic's row, then click "Revoke Invitation" (2).


2. Confirm action
Before removing access to your account, you will be asked to confirm this action.


Please reach out to support@tidepool.org if you have any questions or feedback on this article.
---