This article assumes you have:
Please note:
Insulin pumps are unable to support this feature and require manual updating on the pump.
Automatic time correction
Newer versions of Tidepool Uploader — starting with version 2.22.1 — now give you the option to automatically correct the device time on your blood glucose (BG) meter or continuous glucose monitor (CGM) receiver if your device time is detected to be off by more than 15 minutes.
This detection is based on the time zone you've selected in Tidepool Uploader, and the time on your computer.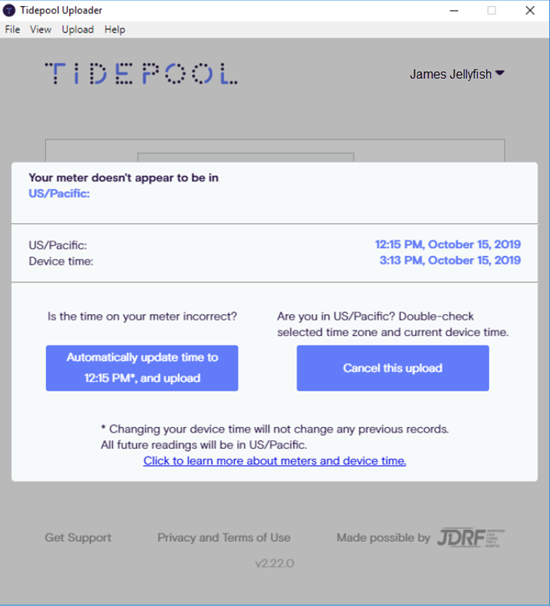 Fixing time on CGM receivers
Tidepool Uploader can update the time on Dexcom CGM receivers, and adjust the time for past events, ensuring all your data is in sync with the rest of your diabetes events.
Fixing time on BG meters
Past readings on your blood glucose meter cannot be adjusted. Most BG meters do not store when time changes occur, which prevents Tidepool Uploader from adjusting the time for past readings to keep your data in sync. Any blood glucose readings currently on your blood glucose meter will be uploaded with their existing time stamp.
Once the time on your blood glucose meter has been corrected, all future recordings will be more accurate, and BG meter data displayed in Tidepool Web will reflect the updated, correct time setting.
Please note: Trividia True Metrix glucose meters do not support the automatic time updating feature. Please visit their Customer Care website for information on manually updating the time on your glucose meter.
Please reach out to support@tidepool.org if you have any questions or feedback on this article.
---