This article assumes you have:
A Tidepool Clinician account - if you do not have a Tidepool Clinician account, you can create one for free at https://tidepool.org/signup.
A patient account that currently does not have an email address added allowing the patient to claim their data and account
Adding an email address to a patient account
Upon logging into Tidepool Web with your clinician account, look up a patient that you need to add an email address for

Select the patient from the list to display their Tidepool Web account

At the top of the page, you will see an ADD EMAIL button. This indicates to you that this patient has not yet been invited to claim their account and view and upload data at home.
Click the ADD EMAIL button to be taken to the Account Profile page, where you can add an email address for the patient.

Click inside the Email address field to add the patient's email address.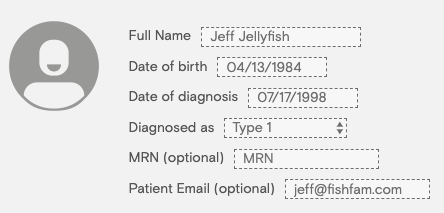 Click Save changes to save the updates. 
NOTE: You can also edit details like date of diagnosis if known, and add/edit the MRN for the patient.
If you do not see the ADD EMAIL banner when viewing a patient account, this means the patient has already been invited to claim their account. You cannot edit an email in this situation.
Please reach out to support@tidepool.org if you have any questions or feedback on this article. Please include the article title if you are submitting feedback to make it easier for us to identify what changes need to be made.
---